How sad to read that the plans to create a traffic-free section on London's Oxford Street have been snubbed. The large and long shopping street which houses famous department stores such as Selfridges (it opened in 1909), John Lewis, Debenhams and House of Frasier, as well as the Uniqlo Flagship Store and many more, attracts Londoners and tourists from all over the world. It is a buzzing street with red double-decker busses, black cabs (that's a London taxi for you) and plenty of cars. In fact, some statistic estimate that each day around half a million people visit Oxford Street and foot traffic is in serious competition with buses and taxis.
Have a look at this video by Ivan Mladenovic. You can see that it is very, very busy.
The Architects Journal reported in March 2018, that Zaha Hadid Architects head Patrik Schumacher had told London's Mayor Sadiq Khan that entire swathes of central London should become car-free zones. Indeed, Oxford street is one of the most polluted shopping streets and generally, the pollution in Central London has been a reason for concern for many years.
And although Mayor of London Sadiq Khan announced his plans last year to pedestrianise the famous shopping street section between Oxford Circus Tube station and Orchard Street near Marble Arch from the end of 2018, this idea has reportedly now been abandoned.
Transport for London has published results of surveys, which show that 33 per cent of more than 14,000 respondents objected to the initiative outright while a further 16 per cent said they had 'some concerns' about it. The biggest concerns seem to be accessibility of surrounding areas as well as traffic congestion and diversion away from Oxford street. It is true, that sometimes it is difficult to tell if there are more cars or more people on Oxford Street but is this really how we think in our day and age?
Pedestrianisation of shopping streets has been achieved in various other cities, and I will take Frankfurt as one example. The main bustling shopping street "Zeil" has seen it's last bit of traffic removed over several decades and this has had lots of positive reactions from the public.
There are numerous examples from around the world such as Lincoln Road in Miami, Copenhagen's Stroget street, Qianmen Street in Beijing, China, Flower Street in Curitiba, Brazil, Buchanan Street in Scotland's Glasgow, Takeshita Dori (a famous Harajuku Street) in Tokyo, Via Dante and Corso Corso in Milan, Italy, Third Street Promenade in LA, USA and Munich's Kaufinger Straße, Marienplatz, Theatinerstraße and Viktualienmarkt (just to name a few). For the few years that I spent living in Munich, the pedestrianized areas actually improved the quality of my life and offered a unique participation in the city's culture.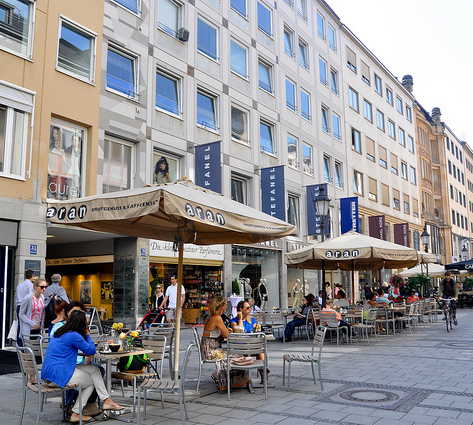 Even in London places like Carnaby Street have successfully made the transition to a pedestrian Zone so why is it such a hassle to turn a small fraction of Oxford Street into an oasis of clean air and safety? Although I am not an urban planner nor architect, I understand that pedestrianisation is something that needs very careful consideration and thorough research and planning. For example, some streets might attract crime and drunk pedestrians at night and the lack of traffic makes the area deserted and dangerous. Traffic which would normally pass through these streets would divert into other areas and pollution would not simply decrease but spread out. Furthermore, various factors can contribute to either a positive effect on retailers or a negative one with less revenue and dropping property prices.
There is however, one compromise which most of London is currently not offering: The tram. A method of transport which has no emissions and can connect pedestrian areas instead of buses, which is a part of many cities around the world. Personally, I enjoyed regularily taking the tram in Frankfurt, Munich, Zurich and St. Petersburg and I have yet to try it in Croydon – the only area in London which uses modern trams. If you want to read a brief review on London's trams I recommend checking here.
But not all is bad when it comes to Oxford Street, even if the traffic stays at present. If you were to go back in history far enough, you might be able to argue that Oxford Street has indeed gone through a positive transformation over the centuries and that it could be much worse: For example, did you know that it was an ancient Roman street originally and that in the Middle Ages it was very popular for public hangings of prisoners?
What a relief that the only things hanging around Oxford Street nowadays are things in the window displays and the (mostly) beautiful Christmas lights in the winter time!