Dear Readers,
In the UK, perhaps also in your country, some restrictions have been lifted: Shops have reopened and gastronomy is welcoming guests to their outdoors or take-away space. Fantastic news coupled with beautiful sunny days!
But what about our appearance? What has happened to us during the last "installment" of being locked down, locked in and pushed over?
I am observing the "post lock-down-dishevelment" or PLDD and it's a real thing.
People have not been to hairdressers in a long time.
People have stopped shaving.
People have stopped washing.
People have stopped doing laundry.
People. Have. Stopped.
People look unkempt, disheveled, are smelly and unfashionable.
In a fashionable city like London, I am witnessing first-hand well-dressed people who have stopped using deodorant back in 2020; I see people in designer coats slipping into their pool slides that are not a fashion statement but the one and only pair of shoes they have been putting on for months and have grown accustomed to. My own wool sweaters have big holes around their elbows because that's how much friction they experienced being rubbed against my desk whilst working from home for a year now. This is a sign of deep trauma, of neglect and stress. It's similar to PTSD and leaves emotional and psychological scars. We are expressing this pain through the clothes we choose (or stop choosing)!
And – like most of the others – I almost don't care. Have we developed Stockholm-Syndrome already?
Are we admitting defeat, the loss of control and expressing it through leggings, sweatpants and smelly socks in slipper slides? Karl Lagerfeld might well be turning in his grave to support this claim.
Because Karl said it first: If we no longer care, we have been defeated. Perhaps this is very true. Fashion brands are offering cosy home-wear, track suits, and cashmere ensembles which don't look too embarrassing when you need to show up on the Zoom meeting, but are comfortable enough to wear in bed, around bed, on the sofa and out to the corner shop for that one trip outside.
Last summer, The Guardian asked if the lockdown will change the way we dress. Yes Guardian, yes, it did. Because there is only so long that people can live a life of imprisonment and severe restrictions on freedom of movement, social interaction and free choice. They tried for a while but seemed to have given up now.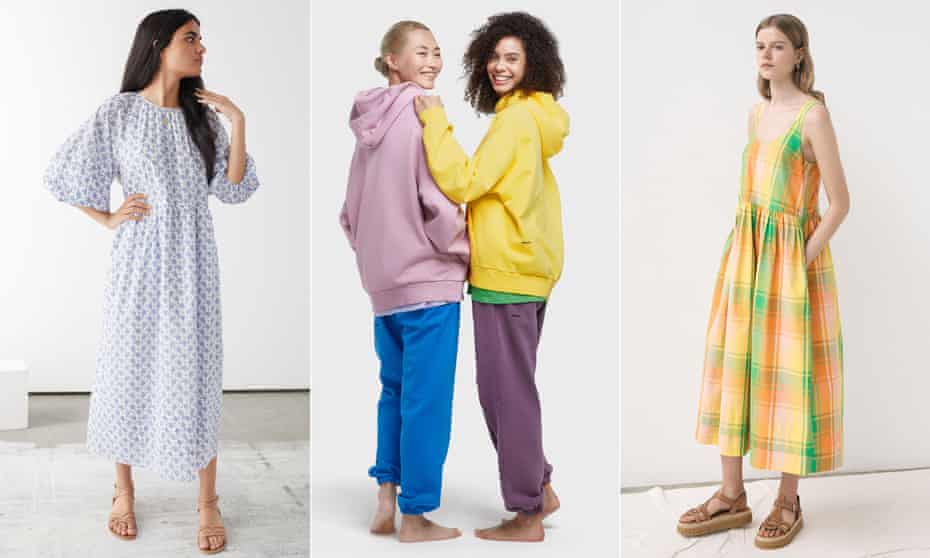 When there is noone to meet and dress up for or with, when there is nowhere to go and make an impression, when we are prisoners of our dwellings, then there is no more motivation to work on our appearance. Fashion and apparel is a social language which people use to communicate with each other instinctively, subconsciously, effectively. But communication has been broken down against our will. The healthy instinct to come together, support each other and emotionally heal through talking, laughing and crying together, through touching, hugging and holding has been strangled. In fact, other humans are supposed to scare us of possibly transmitting a deadly disease which, if we catch it, leaves us with a 99.8% survival rate. But healthy logic has been fact-checked to extinction, and other people are suddenly our enemies.
Defeated to the point where clothes do not matter, we leave our bodies to mother nature, and quickly turn into hairy, smelly and primitive looking creatures because let's be honest, grooming and self-care does take some effort! Adults produce 10–14 liters of healthy sweat per day (10–15 g/min·m2), hair growth rate are different depending on the body part, but head hair grows about an inch per month, (up to 0.5mm a day), while armpit hair grows up to 0.27mm a day. Facial hair grows at roughly the same rate as head hair, reaching 0.5 to an inch long in a month, and leg hair growing on average at 0.27mm per day. (Source here.)
The discouraging, grim lock-down zone we have been in reminds me of a print by the German painter Caspar David Friedrich entitled The Woman with the Spider's Web (or German: Die Frau mit dem Spinnennetz zwischen kahlen Bäumen) from 1803.
"The image explores themes of death and the transience of life. It shows a woman sitting alone under an eerie, barren, dead tree in which the upper branches appear as if scattering crows. The lower ground is surrounded by encroaching and engulfing weeds, which reflecting her despair, seem as if about to envelope her. She rests one arm on a branch of the tree as she looks mournfully and enigmatically out towards the far distance, perhaps looking towards an uncertain future, or as has been suggested, in waiting for the return of a long lost lover." – Can we relate to this? It's a form of PLDD.
As a fashion expert, fashion consumer, fashion creator and fashion teacher I want to give a forecast for the future of this Post-Lock-Down-Dishevelment and yet it is really difficult to do.
It could go in several directions, and perhaps all simultaneously, like it did after the end of WWII: There was a huge motivation to dress up, to be beautiful, to attract a new mate, to celebrate and to show happiness. Dior's New Look was exactly that – a celebration of the return of femininity without rationing skirt fabric, back into a corset to enhance the silhouette and along the pavement in kitten heels.
It could be that people have embraced the tracksuit look so much that they continue to enjoy a very casual look all over town and we will have a combination of low-key and high-key fashion that I remember seeing in Hong Kong before it was returned to Britain – predominantly in the 1980s and 90s when it was considered a fashion-producing capital.
Finally, we could see a completely new type of fashion emerging from this, which WGSN reports:
"every aspect of our research tells us that comfortwear is here to stay, driven by the lifestyle shifts we've seen over the past 12 months that will outlast the pandemic, such as working from and exercising at home. However, that doesn't mean we won't want to dress up at all and the actual volumes of this kind of clothing will decrease versus 2020, stabilizing somewhere between the levels of 2019 and 2020."
I would be keen to hear your observations on post-lockdown fashion and self-care. What have you observed? Please share and whatever you do, please please put on deodorant! Thank you.