Dear readers, I have been a Banksy fan for many years, and still remember spotting his original spray paint art in East London when he started his work. I was really inspired by his graphics and used them in some experimental textile art, about 16 years ago to express my protest against mindless consumerism. You are still a great inspiration Banksy and this shop is very cool indeed!
He has come a long way and this latest "pop up" shop nicely highlights the problems of fame (namely copyright) as well as Banksy's ingenious solution, very much in line with his character.
"Sometimes you go to work and it's hard to know what to paint, but for the past few months I've been making stuff for the sole purpose of fulfilling trademark categories under EU law. It's not a very sexy muse." Banksy
(Partially re-posting text from the BBC who reported on1 October 2019.)
Elusive artist Banksy has set up a shop in south London featuring the stab vest he designed for Stormzy's headline act at the Glastonbury Festival.
A Tony the Tiger rug and a cradle surrounded by CCTV cameras are also on show as part of the venture, at a disused retail outlet in Croydon.
The shop appeared overnight on Church Street.
"I'm opening a shop today," the artist said on Instagram. "Although the doors don't actually open."
Banksy said he was going to sell products online and people could visit the shop for the next two weeks.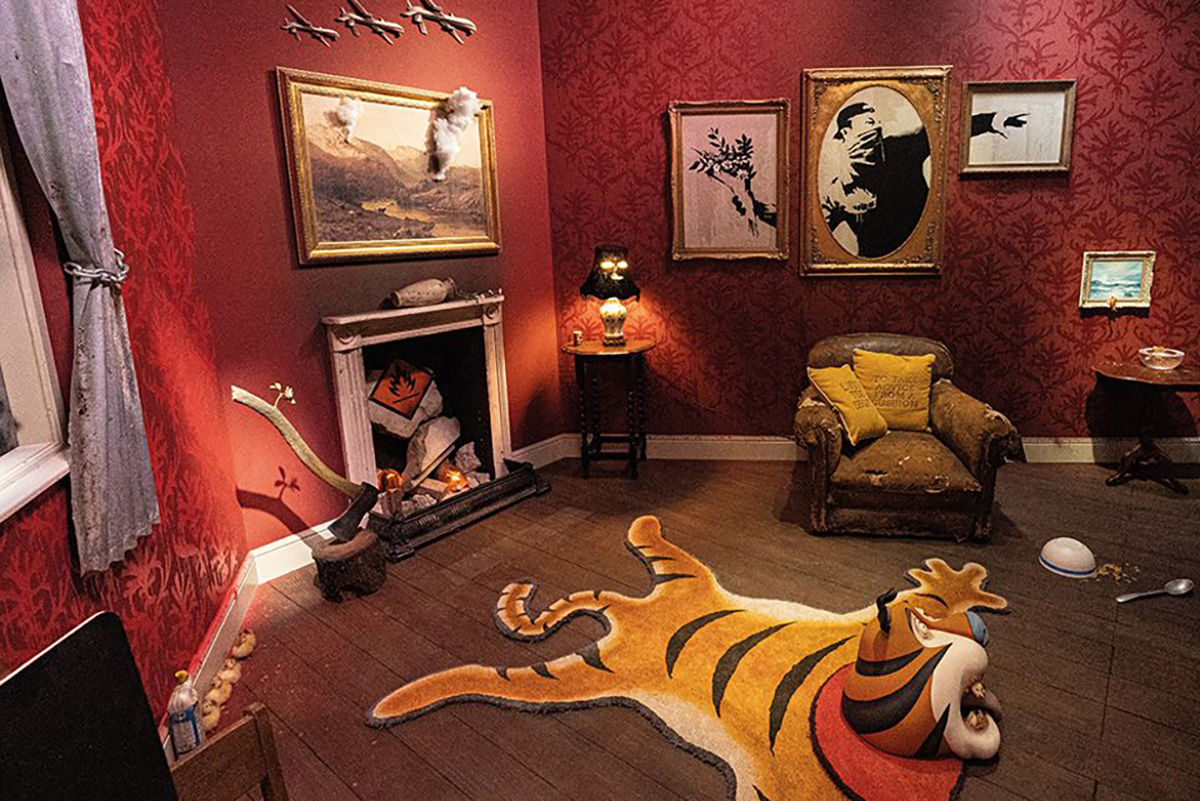 Gross Domestic Product – Banksy's first shop in London
He added he was being "forced" to launch the online shop – called Gross Domestic Product – because a greeting cards company was attempting to legally trade using his name.
The artist is being advised that opening a shop which sold his merchandise would help him protect the trademark on his art.
In a statement, Banksy said: "A greetings cards company is contesting the trademark I hold to my art, and attempting to take custody of my name so they can sell their fake Banksy merchandise legally.
"I think they're banking on the idea I won't show up in court to defend myself."
Do they sell greeting cards such as this one which was someone's DIY design? Image source here.
Items being sold in the shop include welcome mats made from life vests salvaged from the shores of the Mediterranean, which have been hand-stitched by women in detainment camps in Greece.
Welcome mats made from life vests salvaged from the shores of the Mediterranean Credit: Banksy/PA
Welcome mats made from life vests salvaged from the shores of the Mediterranean Credit: Banksy/PA
Image source here.
There are also disco balls made from police riot helmets and a toddler's counting toy where children are encouraged to load wooden migrant figures inside a haulage truck.
Merchandise in the shop window of the homeware store. Credit: Banksy/PA. Image source here.

Banksy said proceeds would go towards buying a new migrant rescue boat to replace one allegedly confiscated by Italian authorities.
He said despite trying to defend his artistic rights in this particular case, he had not changed his position on copyright.
"I still encourage anyone to copy, borrow, steal and amend my art for amusement, academic research or activism. I just don't want them to get sole custody of my name."
It comes as one of Banksy's paintings which shows the House of Commons packed with chimpanzees is set to be auctioned at Sotheby's on Thursday.
Kevin Zuchowski-Morrison, owner of street art gallery Rise, said: "It's incredible that we have this work, very clearly the work of a very famous artist who we all kind of love. It couldn't be any more authentic."
A Banksy collector who came to see the display, said: "It's brilliant. So good that it's happening.
"I doubt he (Banksy) will turn up and go 'hello lads, how are ya?' But he's obviously around."
John, another Banksy enthusiast, who is on holiday in the UK from the United States, said: "It has all the earmarks of Banksy's work. "It's graphic, it's cheeky, it's intelligent."
—————————————————————————————————-