Dear readers,
Last week I received a brand new IKEA catalogue in the mail while I was at my other home in Germany. I don't remember ever signing up for it, so it must be macro-marketing and aggressive oldskool mailbox spamming – at least in Germany. As w&v confirms that 25 million homes will now receive the new IKEA 2019 catalogue with mostly square images to make them "intagrammable" and give the customer journey some phygital life.
When I flicked through it I was surprised. Then astonished. And then appalled.
First of all, the catalogue is filled with ill-lit images. The colours are dark, toned down, there are lots of shadows and a sinister mood to each room that is shown. Every "room" is messy. It's a jungle of clutter, indicative of a frantic mental disorder called 'hoarding and trashing' – which does just that. The catalogue also shows stereotypical families and gives them pre-fabricated names. "Home #2" and "Home #5" are the ones I will talk about today.
But why the anger? Because IKEA is slamming and stereotyping single mothers and families. IKEA is also stereotyping by ethnicity and race. IKEA is treating a sensitive – yet important – social topic as a marketing gimmick and using those who are frail, at risk and need protection, not exploitation for financial gain. It's purely and clearly unethical marketing.
You might say: "Oh, this author must have some issues with the topic to react so emotionally." – and yes, you are exactly right. I am a single parent. This is why I feel that someone needs to speak up about it in a socially responsible way and tell IKEA that this is just not OK.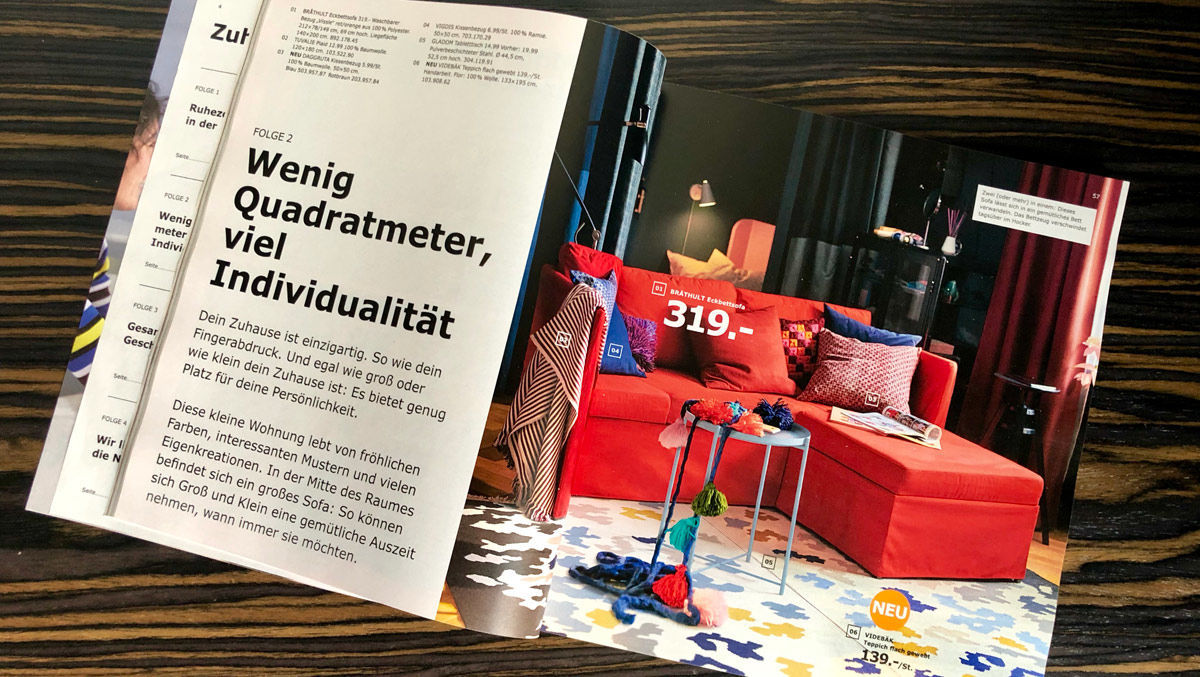 Let me explain in detail:
The story entitled "Home 2" is about a single mother, and I would like to dissect this story in terms of semiotics, imagery and implied meaning.
It's entitled: "Limited Space, Unlimited You." (Or "Wenig Quadratmeter, viel Individualität" in German)
Here is what we (I) see:
A single mother.
Single mother lives in a studio flat.
She sleeps on the sofa, alone. She has no bed and no space for one.
She has a daughter.
Single mom is black.
(Yes, I am including the ethnic appearance of this fictional character because it is a conscious marketing choice to use this particular ethnic group in the catalogue and has to be justified.)
There is no extra room or space for the daughter, so single mom sections off a tiny corner of the living room for the child.
She finds a small IKEA bed that just happens to fit into a corner, then sews some blackout curtains and makes a divide between her adult sofa and the child's sleeping corner.
There are no windows in the child's corner, but single mom has put up a night light and a lamp.
Do you want to know what single mom does for a living? IKEA gives us a hint: She has lots of craft supplies stacked throughout her studio flat and she even does craft projects with her daughter at the expandable and only table.
Single mom owns a sewing machine but no books.
And this imagery invites the observer to put 1 and 1 together, consciously or subconsciously: "She must be a creative artist. You know, those who can't make a decent living because art doesn't pay? She must be selfish or uneducated or both. Doing her artsy crafts, unable to make ends meet and give her child at least her own bedroom. You know, she might have a mental issue called "narcissistic personality disorder" where someone has a "grandiose sense of self-importance". In fact, the title of the story already indicates this with the title "Limited Space, Unlimited You."  Perhaps this is how she ended up being a single mother. Her partner must have left her and her inflated artistic ego."
But lets get back to looking at the visual facts:
The colours of the flat are depressing. Dark blue, red, black. There is little to no natural light. Even the child's pink furniture can't fight the oppressive colour choice or the heavy drapes behind which the scarce rosé happiness of childhood is hidden when the girl is sleeping and the mother is lounging in her pyjama. (She is clearly not in a rush to get to work. Does she even have a steady job?)
When the girl is awake, she does not have her own table to play or draw on. Yes, there is the kitchen table where mother teaches daughter her trade of crafts. (She will grow up to be the same looser as her mother, that's for sure). But when the daughter wants to draw, she has to do it on the floor.
There are no paintings or similar on the walls, instead this individualistic (selfish?) woman hangs her crafts on the walls or distributes her wardrobe as there is clearly not enough storage space.
The only natural light is in the bathroom, which has not been refurbished since the 1970s. The tiles are all a nauseating mint-turquoise-green colour and fittings and fixtures make you guess how often the plumber needs to stop by. This is the bathroom of poor and bad housing.
If the visual story is not enough, there is plenty of copy to give everything deeper meaning.
There is "less clutter, far more joy. See only what you want to see, and keep everything else neatly tidied away till it's needed." Does this refer to the daughter who has been put out of sight?
Here in this story composed of images, the reader is peaking into someones life. If IKEA's market research team has done a good job in terms of market segmentation, one type of IKEA's core customers are low-income, low-education, single-parents who live in cheap or bad (social?) housing and try to make ends meet. Somehow. IKEA is practicing the all-so-popular marketing technique of "storytelling."
I appreciate that this might perhaps be a fact. However, I do not appreciate how this brand is treating this sensitive issue and how through campaigns it is shaping society's opinion of those vulnerable households. This includes both the actual single-parent house holds and other households.
This ad stigmatizes and insults. It puts people in a box and classifies them. It disrespects them and degrades them.
It puts individuals personal and financial problems right in their face and gives them no hope or help. Above all, it slams single mothers by rubbing all the hardship in their face. Although advertising is known to use taboo topics to gain attention and followers, I feel that this is inappropriate.
Perhaps especially so, because it also includes children – the most vulnerable ones. What's worse is that the catalogue offers an alternative lifestyle story, "Home #5" of a family perfectly in tact, father, mother, 4 children. Many rooms and plenty of bedrooms for everyone. The children have a table to draw on or do their projects and even have their own armchair. (Remember, single mom's daughter draws on the floor). There is much more space, light, windows to look out of and comfort (nice new bathroom), as well as evident disposable income in the apartment. The mother is lounging, reading while the children are playing – in their own big room. There are paintings on the walls and bookshelves. (They must be educated.)
And the mother is Asian, the father is white. (Yes, I am including their ethnicities as well, because someone between marketing and advertising made the decision that the wealthier family is represented by these ethnicities.) Only the children do arts and crafts. Mom and dad have orderly living arrangements and clearly their work does not happen at home. Have a look at the full campaign here.
If this is not enough, have a look at the video advertising from a similar IKEA campaign – featuring broken families. Although they are cleverly done and partially funny (advertising is good when it wants to be), they are still stereotyping single mothers as either exhausted and depressed or promiscuous and irresponsible and showing children who are experiencing vast emotional difficulties while their parents "try to make it work".
Why such stories, especially about single mothers? Why slam the single mothers and not celebrate them, or at least not humiliate them? Can single mothers really relate to this campaign and do they jump up to run to IKEA next time they don't know how to hide their child from their view in the studio apartment?
I know many single mothers and there is a real person, a respectable and heroic person and most times a true tragedy behind each of them.
Some of them started in "Home #5" and through tragic occurrences went to "Home #2". Or they kicked their ex out of "Home #5" or their home does not fit any "Home #" stereotype. But trust me, all of the mothers I know would love a happy, loving relationship, a delightful home and financial security. They are aware of their situation which they make the best of. But they do not want to be judged (and this happens to single mother on a daily basis in our society!)
One mother lost her husband to brain cancer at a young age, leaving her with two children and a mortgage. She used to be an art curator at a museum. (She is white)
One mother had to run away from her partner during her pregnancy because he turned out to be mentally unstable and dangerous. She fled all the way to China from Europe. She lectures at university and runs her own business. (She is white)
One mother's relationship fell apart because the partner started drinking heavily after he lost his job. She lives alone with her daughter and does an amazing job, juggling work and parenting. She has a university degree and rents an apartment. (She is black)
One mother kicked out her husband after he started staying away for several nights per week due to extramarital affairs whilst their child was a baby. She owns her apartment, she has a university degree, she works hard and her child is a top student in school. (She is Asian)
One mother was beaten up by her partner during her second pregnancy and then got divorced. She works with special needs children in school and owns a house. (She is Caucasian)
 One mother has 5 children which she and her husband wanted. After she gave birth to the 5th, her husband found a younger lover and suddenly said to his wife: "All you ever did was have children. You are a disappointment to me." He left her penniless and moved in with his new young woman. She is working several shifts per day, she is taking care of all 5 children and volunteers in her local church. (She is Caucasian)
One mother left her husband and moved to another country with their 2 children. They are still together, but the mother prefers to raise her children in her home country and give them a better education. They visit the father every other month. (She is black)
One mother was left with her 2 children after the husband ran off with the secretary and all the money. She is a university lecturer and runs her own business. She owns a house and several apartments. (She is Caucasian).
One mother experienced domestic violence when her daughter was still a baby. She divorced and the husband moved out taking all the furniture with him. He is officially unemployed and doesn't support the child, even though he unofficially earns money through his family business. The mother works hard, traveling for her job frequently. She owns a small apartment. (She is white.)
One mother conceived despite contraception. Her partner aggressively demanded an abortion and then cut all ties when the woman did not comply. The mother is highly educated, owns property and works three jobs to make ends meet. (She is white/ Jewish)
[Note that almost none of these men help financially.]
The point is, these are just some single mothers I know and they all deserve a medal for the extremely hard work they do, sacrificing everything for the well being of their child or children. They do not deserve to be used and abused for marketing purposes in a furniture catalogue and distributed around the world in millions. I have added their ethnicities (racial background) because IKEA is clearly offering stereotypes to us. Because I know women of different colours, ethnicities, educational levels, financial situations and with various types of housing. (And guess what IKEA, your depiction is an insult to each one of them.)
And for the real-life dark-skinned mother (the one who opens this very catalogue and shrieks "it's me!") who is sharing her studio flat with her daughter, who works as an artist and crafts designs and sleeps on the sofa, I salute you. You are doing a great job, a hard job and you have your child's interests at heart. Don't let IKEA stereotype you and don't let any marketing agency make you feel bad, poor or incompetent. Please know that as a fellow single mother, I will always fight for our dignity wherever I can. I know how hard it can be and I know how much joy we have.
If I need furniture, I will go to an antique store, on Ebay or ask my friends. I will not shop from IKEA (for this reason and many more, such as the forced labour of East-German prisoners who had to make IKEA furniture before the Berlin wall came down. But that's for another blog-post.)
I close this post with two uplifting commercials, about the same topic, but in a very different tone. Let me know your thoughts, ladies and gentlemen.
'The Whispers' portrays a segment of Indian society that is forever indulging in gossip around a single mother. The story revolves around a single mother to a little daughter, having to face gossip about her missing husband from other residents in the society. In one such encounter she demonstrates why the father not being around has no negative influence on her or her daughter and that she is perfectly capable of bringing her up on her own. #AnoukBoldIsBeautiful