Hello my lovely readers! I am spending part of my summer in London and I thought I'd blog about my favourite things to do.
In a way, it's my secret London, those special spots and places that not all Londoner have visited and few tourists might know about. They are less crowded and give a sense of living here, rather than just visiting. You can access most on a low budget and I would even say that these activities are low-impact for the environment, cause no harm to others and are culturally, intellectually or ethically infused. However, they are also leisurely and relaxed. After all, who wants to have a stressful summer?
If you get a chance, do try my top 10s too and if you know any other cool secrets, please share!
1. Holland Park
This park must be my favourite! With Peacocks waddling around, a small Japanese garden and an adventure playground it is a perfect leafy retreat from the summer heat (and interesting for your children,too). Walking in the park as well as the romantic streets surrounding it is my secret retreat on a summer's day.
They are everywhere! But if you happen to be walking to or from Holland Park, you can access them on High Street Kensington easily. There are other areas in London with similar clusters of charity shops such as Octavia Foundation, Oxfam, Cancer Research or The British Heart Foundation. Some of the clothes are brand new and designer pieces. This is my secret to sustainable consumption! Look at the Paule Ka dress which I found in Knightsbridge, never worn and the perfect size for me! For my friends, I even take orders and try to find unusual items which I send to them around the world.
3. Daunt Books
There are a few of them scattered around London, but the one that I love is in Marylebone. Its full of character and just a beautiful architectural gem. Not to mention the most inspiring books of many genres. I promise you, you will not want to leave empty handed. Whenever I visit Daunt Books I feel that it is a curated environment and each section or pile of books has been carefully and thoughtfully selected by the staff, presented to our discerning eyes and intellectual curiosity.
Just around the corner from Daunt books (that's No5 below) is Aubaine, a café and restaurant. It's a bit hidden from the main highstreet, so look out for it on Moxon Street. In the summer you can sit outside and enjoy coffee or food, overlooking a unique cheese shop La Fromagerie and the Marylebone Tup. The Tup used to be a famous hang-out for students of now Regent's University and luckily the walls do not talk…! In fact, all three venues are worth a try and Marylebone High Street is a wonderful street and on days off, summer or any other season, where I love to spend time. In close proximity there is Regents Park to the North and The Wallace Collection to the South which are lovely!
In a different part of town, near Embankement Station (also accessible from Temple station) is the Thames with a historic and mystical obelisk, nearly 3500 years old. This ancient gift from Egypt is guarded by two Sphinx and lets you decend to a viewpoint over the river. It took me many years until I visited it and now I am so glad that I did. It's not just Place de la Concorde in Paris, no, we have one of our own in London!
According to the blogger Memoires of a Metro Girl, the name Cleopatra's Needle is shared between three Egyptian obelisks – the London one's twin in New York City and a third in Paris – which came from a completely different site in Egypt. The London and New York pair are made of red granite from the quarries of Aswan, weighing a hefty 224 tons each. Standing tall at 68ft (21 metres), they were originally erected in ancient Egyptian city of Heliopolis by Pharaoh Thutmose III (1481-1425BC) around 1450BC. Rameses II (1300s-1213BC) added the hieroglyphs around 200 years later to commemorate his military victories. However, in the early 19th century, Egypt's ruler Muhammad Ali (1769-1849) was happy to give away a piece of antiquity. Following the victories of Lord Nelson and Sir Ralph Abercromby in the Battle of the Nile and the Battle of Alexandra in 1798 and 1801 respectively, Ali gave one of the obelisks to the United Kingdom as a thank you gift in 1819.
The 2 sphinx to either side of the needle though, are only from the late 19th Century.
6. The Transport Museum
About a slow 15 minute walk from the river towards Covent Garden is the way to reach the Transport Museum. But first I suggest to walk through Carting Lane. Carting Lane has a rare example of Victorian engineering with its Webb Patent Sewer Gas Lamp which was a sewer gas destructor lamp. You can read more about this mad thing here.
The Transport Museum, even for a Londoner, can be a valuable history lesson, looking at (and sitting inside!) real steam locomotives and the first Tubes that traversed London under ground or the Double-Decker buses with open back doors which are sadly out of service now. (It was my favourite bus by far where you could jump on and jump off any time but thanks to Boris Johnson this was scrapped.) It's an ecological way of dealing with transport, as you are not contributing to any emissions while you ride the vehicles.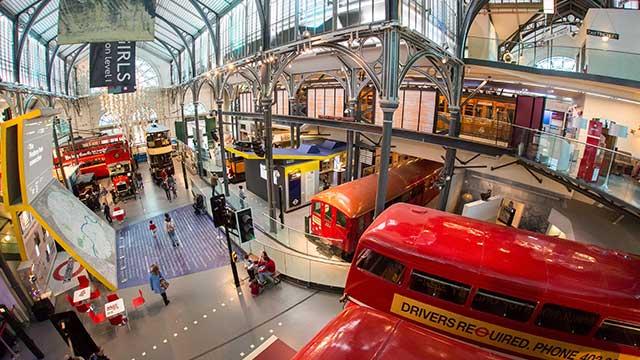 This is a new branch of the Japan Centre and is located at Westfield Shepherd's Bush. The Westfield shopping centre keeps expanding and now claims to be the largest in Europe. There is lots to see and buy in Westfield, but I personally do not enjoy the hustle and bustle so if I go, I don't browse but steer towards a specific target. In this case, it was Ichiba, a Japanese food and small goods heaven! It is the next venue in West London, opened by the original "Japan Centre" which is located in Panton Street near Piccadilly. This Ichiba branch has its unique vibe and offers everything from Matcha to sushi to Japanese comfort food to fresh ingredients (including entire Wasabi for a heart-breaking GBP 20).
8. The 5th View
Close to Piccadilly Circus, there is a huge and multi-story Waterstones shop. Of course, the book store itself is wonderful (reportedly with over 200000 titles), but my secret spot is the restaurant on the 5th floor. You get beautiful views over London which is a rare treat. The food is excellent, too, including my junk-food treat: Large chips with ketchup and mayo. I recommend walking either up or down the stairs, depending on your level of fitness, to experience the Art-Deco building.
If you are a Japanophile like me, you will absolutely love this. But if you are not familiar with Japanese sweets, it is still worth visiting to learn something new and see all things beautiful. This store which is easily missed on Piccadilly due to its low-profile signage, has authentic Japanese "Wagashi" which you can usually only find in Japan. In fact, the original store is located in the fancy Ginza district in Tokyo! Mitziemee reports, "Minamoto Kitchoan is a luxury wagashi chain and the branch in Ginza is the flagship store. The wagashi is made daily from the finest ingredients, and the tastes and textures are so subtle and delicate that each bite will blow your mind. You can either buy pre-packed gift boxes with wagashi or pick and choose among individually wrapped items."
10. Layers London
Situated on South Molton Street which veers off right in the middle of Oxford Street, this shop is a fashion oracle. I my humble opinion, everyone should visit and I frequently send my fashion students there!
It is more a museum for me and an inspiration when I want to see what conceptual designers like Margiela, Rick Owens, Aganovich, Forme D'Expression, Masnada or Werkstatt Muenchen are creating. These pieces are often one-off and hand-made, at an appropriately high price which is "slow fashion" in a way.
I love their ethical approach to fashion: "
The vision for our store is to start with a product of purity: something that achieves a balance between old craft and a modern approach to design. We feel the need to provide products that challenge the ideas of tradition and push them forward for the current times. To find designers who are doing something of their own, who are not motivated by commercial success, but want to better themselves by achieving critical recognition for their work. It is one of our aims to promote new and young talent. To offer them a platform on which to showcase their work, both on our website and in store. We feel it is time to have a new outlook towards fashion. Forgetting products valued on status but instead appreciate those products where the time and thought was put into their development. We plan to close the gap between art and fashion, focusing on those who truly are modern day artisans. Consequently, challenging the customers approach to garments."