Image source here.
Alek Wek is known to many as a supermodel and cover girl for the most prestigious fashion houses, walking down the catwalk or posing with her gorgeous figure and striking looks. But this superwoman has an incredible history and biography which is not only limited to the fashion modeling industry.
To begin with her super biography, Wek entered a new life, when she came to the UK after having originally been born in South Sudan and fleeing war there. Signed by a modeling agency back in the 1990s, she embarked on an exciting modeling career and became a role model for many women of colour around the world.
In terms of higher education, Alek Wek is a London College of Fashion alumna as she studied Fashion Business and Technology at the very place where I now teach.
She is a humanitarian at heart and a UNHCR Goodwill Ambassador, making the most of her refugee background and helping others in need.
Her voice as an author is printed in several publications, recounting her biography and urging us to help, too.
For many years, Wek has tapped into her experiences and background to reach other people in need and help them get through hardship.
Several years ago, in 2012, The Daily Mail reported on Wek visiting a refugee camp which brought back her own bitter memories:
[Wek] said that the hardships she lived through will be impossible to forget: 'Having witnessed it first-hand, and at a very young age, even if I put it at the back of my mind, it is still there.
'I've heard stories like, "I'm going to die anyway, I might as well die, why should I even try?" That really resonated, not knowing what tomorrow is.'
The model put her strength of character down to her powerful, selfless mother, saying: 'Whenever I feel I am going through my own 'little' challenging moment, I just think about my mom.'
Remembering the past: Alex Wek has revealed that returning to her South Sudan hometown
brought back a lot of painful memories of when she fled the war-torn country with her family as a teenager.
The model has also authored some books about her journey and thoughts such as Humanitarian Action: A Shared Responsibility (UN Chronicle, Vol. LIII, No 1, 2016) and you can read Alek Wek's contribution here.
She has also authored Alek: My Life from Sudanese Refugee to International Supermodel and this book is available here.
She writes:
"We have a global displacement crisis on our hands, and as a global community we must address it. We must engage. We must empathize. We must figure out what we can do as individuals, as families, as neighbourhoods, as communities, as States, as nations. As a Goodwill Ambassador for the Office of the United Nations High Commissioner for Refugees (UNHCR) and a former refugee, I am committed to building awareness and to giving a voice to the millions who are forcibly displaced around the world. I have spent two decades advocating for the rights of refugees. In every instance, I find there is nothing more powerful and educational than the telling of a single human story. And today I would like to tell you mine."
Throughout her inspiring journey, it seems that she always believed in inner strength, resilience as well as education and the power it can give you. It is really admirable to see that a person who has been through so much hardship but also success is able to give back to society, to show concern about the well-being of others who are still less fortunate and whose daily life is a struggle beyond our imagination.
I hope that Alek Wek one day will come into LCF as a guest speaker to inspire us all. My university is engaged in using fashion for the improvement of lives and here is a case that proves that a connection between the two is very much possible. Check out LCF's Better Lives here.
Well done Alek!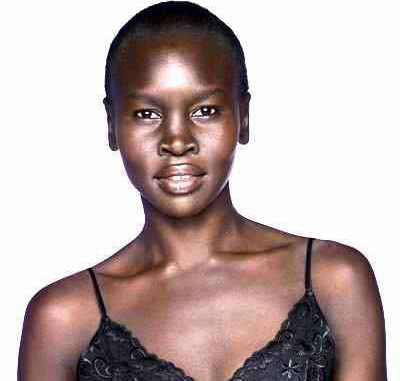 Image source here.
Supermodel Alek Wek was appointed UNHCR Goodwill Ambassador in 2013, after years of committed support. As a former refugee from what is now South Sudan, Alek knows what it is like to be forced to flee her home. She now travels across the globe using her voice, her platform and her story to advocate on behalf of refugees and to support the life-saving work of UNHCR.
Alek was only nine when civil war broke out in Sudan. "Life as we knew it came to a devastating end," she remembers. "Our parents tried to shield us from the conflict but the sounds of gunfire and the vibrations of explosions filled us with dread. Dead bodies filled the landscape."
Alek and her family fled their village and survived in the bush, foraging for food and taking shelter in abandoned huts until they managed to escape to Khartoum, from where Alek's mother sent her and one of her sisters to London. "I knew with all my heart that she was doing what was best for us, but that didn't ease the pain."
Having lost so much, education became the only thing that mattered to Alek and she was fiercely devoted to learning, despite arriving in the UK without her family intact and unable to speak English. Soon after being discovered by a model scout, Alek embarked on a successful international career in the world of high fashion. "In a matter of years, I went from a faceless refugee statistic to one of the most recognizable faces in the world."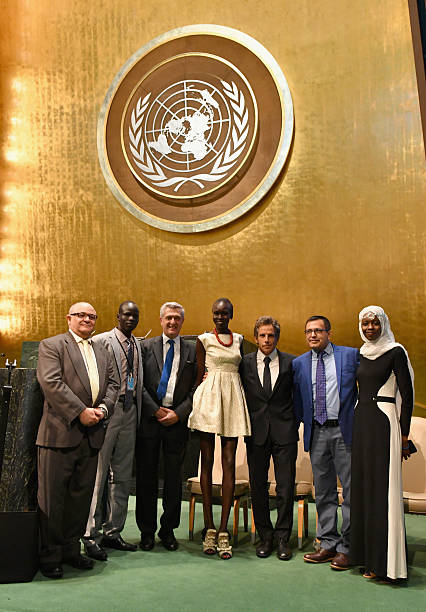 Image source here.
In addition to visiting refugees and witnessing UNHCR's frontline work, Alek has helped amplify the refugee cause through many different projects. For World Refugee Day 2016 Alek joined refugees, UNHCR staff and other high profile supporters in our video message of solidarity with forcibly displaced persons around the globe. Alek later spoke in the UN General Assembly Hall at the handing in of UNHCR's #WithRefugees petition, the largest-ever petition for refugees, to the UN Secretary General, ahead of the historic UN Summit on Refugees & Migrants in September 2016. In December of that same year, Alek served as the face of H&M's holiday campaign which raised $3 million for UNHCR and supported the education of refugee children.
Alek has honoured the work and staff of UNHCR by attending multiple events, including the 2016 Arab American Institute Gala where she presented the  Khalil Gibran Award to our Deputy High Commissioner, Kelly Clements, who accepted on behalf of UNHCR and the 2015 German Sustainability Awards where she presented an Honorary Fellowship to then High Commissioner, Antonio Guterres. Alek also helped launch the Sustainable Development Goals at the 2015 Social Good Summit in New York.
Alek has spoken passionately about her work with UNHCR in numerous publications across many territories, including The Guardian, Marie Claire and NPR.