Rana Plaza is one incident which was reported on, published and shown to us (see my post here)but how many people suffer due to our fashion system on a daily basis? The numbers remain in the dark. 5 years ago, there was alot of activism, such as the Spanish trade union UGT, who felt for their manufacturers in Bangladesh and staged a protest.
What can we do to make things better?
We can take small steps to initiate small solutions. For example, a few years ago, I staged this Barbie photo below, in order to remind us of the constant consumerisim we live in.
I am pleased to see that Vogue has written a piece on "Fashion Revolution", reminding us of Rana Plaza – the horrid catastrophe which shook the fashion world 5 years ago and I am reposting the article further below. Have a look at what Vogue's Ellie Pithers suggests here below followed by my own special recommendation and do post your thoughts!
***********************************************************************************************************************
5 Changes To Make This Fashion Revolution Week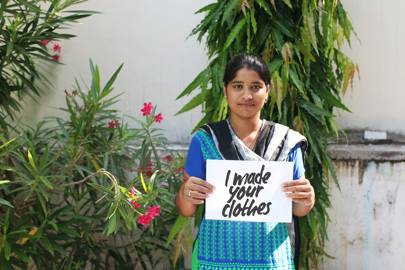 It's hard to believe that it's been five years since the world watched an eight-storey factory collapse in Bangladesh. The Rana Plaza disaster claimed 1,138 lives and injured a further 2,500 garment workers – and has subsequently proved a turning point in the collective fashion consciousness.
In a special "Fashion Question Time" discussion at the House of Commons on Monday, numerous panel members argued that conditions have improved – albeit painfully slowly – for garment workers since the industrial tragedy, which forced factories, brands and governments to analyse the human cost of fast fashion.
Rushanara Ali, MP for Bethnal Green and Bow, and incidentally the first person of Bangladeshi origin to have been elected to the House of Commons, put it succinctly when she said: "[Rana Plaza] was a wake-up call to consumers in the west, and their governments. The awareness and public pressure both internationally and also domestically has meant that the workers in that sector have a stronger voice and more back-up which needs to be maintained. Overall pay and conditions have improved slightly. But the prognosis is a mixed one. There has been some progress but not enough. We need to make sure the legacy of the tragedy is that there are international agreements to make sure something like this does not happen elsewhere."
Step forward Fashion Revolution, a movement founded in the immediate aftermath of Rana Plaza, to radically change the way our clothes are sourced, produced and consumed. This week marks the fifth Fashion Revolution Week, and the debut of a new manifesto which aims to make the fashion industry fairer. Here are five ways to get involved with Fashion Revolution Week, and shop mindfully in the process.
Sign the Fashion Revolution manifesto

Today marks the unveiling of Fashion Revolution's Manifesto. A 10-point plan launched by Fashion Revolution co-founders Orsola De Castro and Carry Somers, the manifesto states: "We love fashion. But we don't want our clothes to exploit people or destroy our planet. We demand radical, revolutionary change." With arguments for a fair living wage, respect for culture and heritage, conservation of the environment, greater transparency and accountability within the supply chain, as well as an emphasis on measuring success in more than just sales and profits, pledging your support is a no-brainer. Sign up here.

Start inspecting your clothing labels

Join the #whomademyclothes initiative by snapping a picture of your clothing label and asking who made it. Yes, brands have a responsibility to simplify their supply chains, maintaining ethical and sustainable standards at every stage, but it's consumers who need to pull them up on it.

Visit the Sustainable Fashion Rooms

A week-long pop-up of sustainable designer stalls, workshops, and panel discussions at the Truman Brewery, curated by Po-Zu, the Sustainable Fashion Rooms is a great place to start if you're keen to introduce some ethically- and sustainably-made pieces to your wardrobe. Clear your diary at 6.30pm on Tuesday 24 April to witness an impressive panel of speakers (including Safia Minney, founder of People Tree, Sam Maher from the Clean Clothes Campaign and former Voguette Dolly Jones) discussing the Rana Plaza disaster, five years on (tickets are £7 and available here).

Purchase a Guppy Friend

You're probably au fait with microbeads, those tiny grains of plastic that were once a staple of exfoliating teenage cleansers and have now thankfully been banned from entering the water supply. But have you heard of microfibres? Miniscule shreds of plastic that break off when you wash clothing made from synthetic fibres – including polyester, nylon, or acrylic – they're so small you can barely see them, and tiny enough to fit through washing machine filters and straight into the water supply, where they're then ingested by fish. Horrifying fact of the day: one in four fish samples contain plastic. Even worse: one load of laundry releases up to 1,900 plastic fibres. So, what can you do? Try to buy better quality clothes which are less synthetic. Avoid washing them unnecessarily. And invest in a Guppy Friend washing bag – a mesh bag that sits in your washing machine and acts as a filter, collecting microfibres before they escape.
Guppyfriend washing bag, £25, Patagonia.com

Visit Fashioned From Nature

The V&A's new Fashioned From Nature exhibition isn't just a captivating way to spend a Saturday browsing beautiful clothes inspired by the natural world; according to Vogue's Alice Casely-Hayford, it's "an urgent call to action for us all to readdress the way we think about fashion and more importantly our precious planet".
Fashioned from Nature, supported by I Love Linen by CELC, with further support from G Star RAW, is at the V&A until January 27 2019.
---
And No. 6 is my own suggestion, something I preach to all my students:
WEAR VINTAGE!
If you live in a fashion capital like London, there is an abundance of vintage stores and charity shops where you can find a designer piece that you personally can resurrect and give it a new life by wearing it! If you do not have physical access to those hot-spots then there is the internet which offers so many sites with beautiful vintage pieces.
The vintage clothes not only contribute to a unique appearance, they also break the chain of cruel production and mindless consumerism. They also make a great conversation piece for the office or a party! Below are some of the vintage items which I have purchase in the past:
Kansai Yamamoto sweater which I had previously blogged about here, shoes by Escada, Chanel and Pollini and a skirt by Karl Lagerfeld.